Young Visual Art
News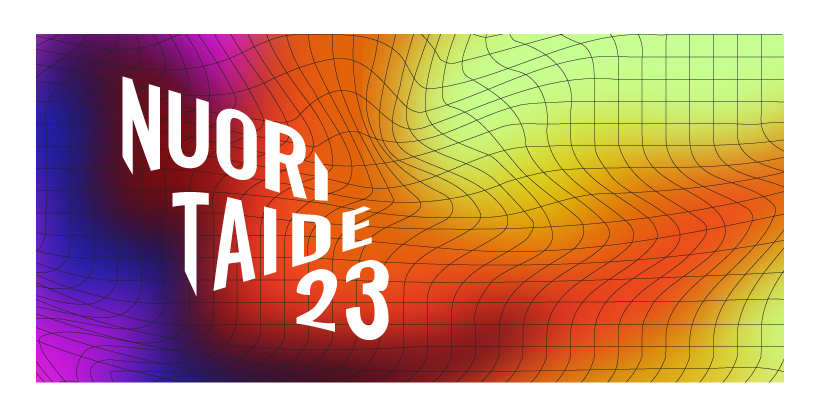 Nuori Taide 2023 event
Sat 13th of May 2023 at 11-17
TIivistämö, Helsinki, Finland
Free entry
Nuori Taide 2023 gathers young art makers from all around Finland to Tiivistämö in Helsinki for a one-day-long event on Saturday, 13th of May. The programme includes art exhibited by 13 to 23 year old art makers, artist meetings, workshops, discussions and performances.
The theme of this year's Nuori Taide event is a shine. The theme invites young people to shine together as individuals and a group. Shine to make harmony of all colours. The shine invites people together by offering inspiration, encouragement and joy. 
Nuori Taide 2023 is a discrimination-free event. It follows Nuori Taide's guidelines for a safer space.
The event is produced by Nuori Taide together with young art makers and producers: Meeri Kastinen, Senni Koskenvesa, Helmi Kuirinlahti, Tiitu Nykänen, Moona Rantanen, Emma Riski, Säihke Sillanpää, Eevi Siniketo, Sara Taskila & Minka Yltävä.
Read the Nuori Taide 2023 event info in Finnish.
Info
Young Visual Art (Nuori Taide in Finnish) is a nationwide forum for visual art makers aged 13–28. It organises art exhibitions, art residencies, workshops, trainings and Nuori Taide events for young art makers as well as those working closely to visual culture created by young people. Nuori Taide events are organised every second year in different cities. The event a Finland's biggest visual art event for young art makers. Content is created together with young volunteer production assistants and regional partners.
Nuori Taide activities are conducted in collaboration with young people, as well as youth work and visual art professionals. Long term partners include Amos Rex art museum and its Generation triennal and cultural youth work specialist Young Culture (Nuori Kulttuuri). Activities are organised mainly in Finnish and partially in English and Swedish.
Read Nuori Taide's essay in NO NIIN magasize Issue 13.
Nuori Taide is a discrimination-free platform. It follows Nuori Taides guidelines for a safer space.
History
Nuori Taide was established in November 2018. It is operated by the Art Centre for Children and Young people and funded by the Ministry of education and culture in Finland. The young visual arts is cultural youth work specialist, specialised in visual art.
Involve!
By involving one may have new experiences to improve their an artistic hobby or practice! Most of the activities are free of charge for young art ehnthusiastics.
Follow @nuoritaide on Instagram, TikTok, and Facebook.
International collaboration
Young Visual Art has involved several international projects, latest Youth Learning through Arts (YLTA project) in 2021–2022. In YLTA, we created the Guidebook book for reactive eco crisis art practice.
Nuori Taide's goal is to strength Nordic-Baltic and international collaboration of cultural youth work network. Sharing practices, leaning together, and offering new participatory projects for young people are the main interest of us.
Contact
Send us an inquiry, proposal or feedback to nuoritaide(a)artcentre.fi or
call/text to us +358 50 308 3625 / Anni Rupponen (time EET). We are using WhatsApp.