Nuori Taide
Young Visual Art

YOUNG VISUAL ART =
BE VISUAL. LOUD. EXPERIMENTAL. EXPRESS YOURSELF.
BE YOU.
Nuori Taide is a cluster of activities. It organizes national young art events as well as regional and local workshops and trainings.
Within the framework of the project, young people have an opportunity to present their own artworks, artistic expression and form of activity. They get a chance to work with professionals of the art field and to receive valuable feedback from them. They also get a chance to experience new things.
Nuori Taide is developed in co-operation with experts of youth work, art and visual culture.
Nuori Taide is aimed at young people aged 13 to 29, depending on the nature of the activity.
Nuori Taide operates alongside the Young Culture project focusing on dance, theatre and music, and it is also a co-operation partner of Amos Rex museum and the Generation Exhibition. 
A National Event Presenting Visual Expression of Young People
A CHANCE.
AN OPPORTUNITY.
A forum for young people to present their visual art and visual expression.
Our first event was launched in Jyväskylä on the 25th of May 2019.
CLICK HERE TO CATCH THE FEELING FROM NUORI TAIDE 2019!
National Nuori Taide Events offer young people aged 13 to 23 years a chance to show their own visual art and visual expression and to receive feedback from art experts. The events are primarily targeted at hobbyists, not at advanced art students or graduated art professionals.
There are various ways to present the artworks at the event: at exhibition stands, on screen, in workshops, in the form of performances, lectures or talks – indoors or outdoors in an urban environment. You can also propose other ways of introducing your works. The artworks can be created and presented by individuals or groups.
During the event, various art professionals tell about their work, their career development and about the ways the art world functions. Some art schools may also present themselves at the event.
You have to sign up for the event on the Internet two months prior to the event at the latest. Information on sign-up dates will be available across media and on multiple platforms.
Entrance to the event is free, but the participants are responsible for paying their own travel and accommodation costs.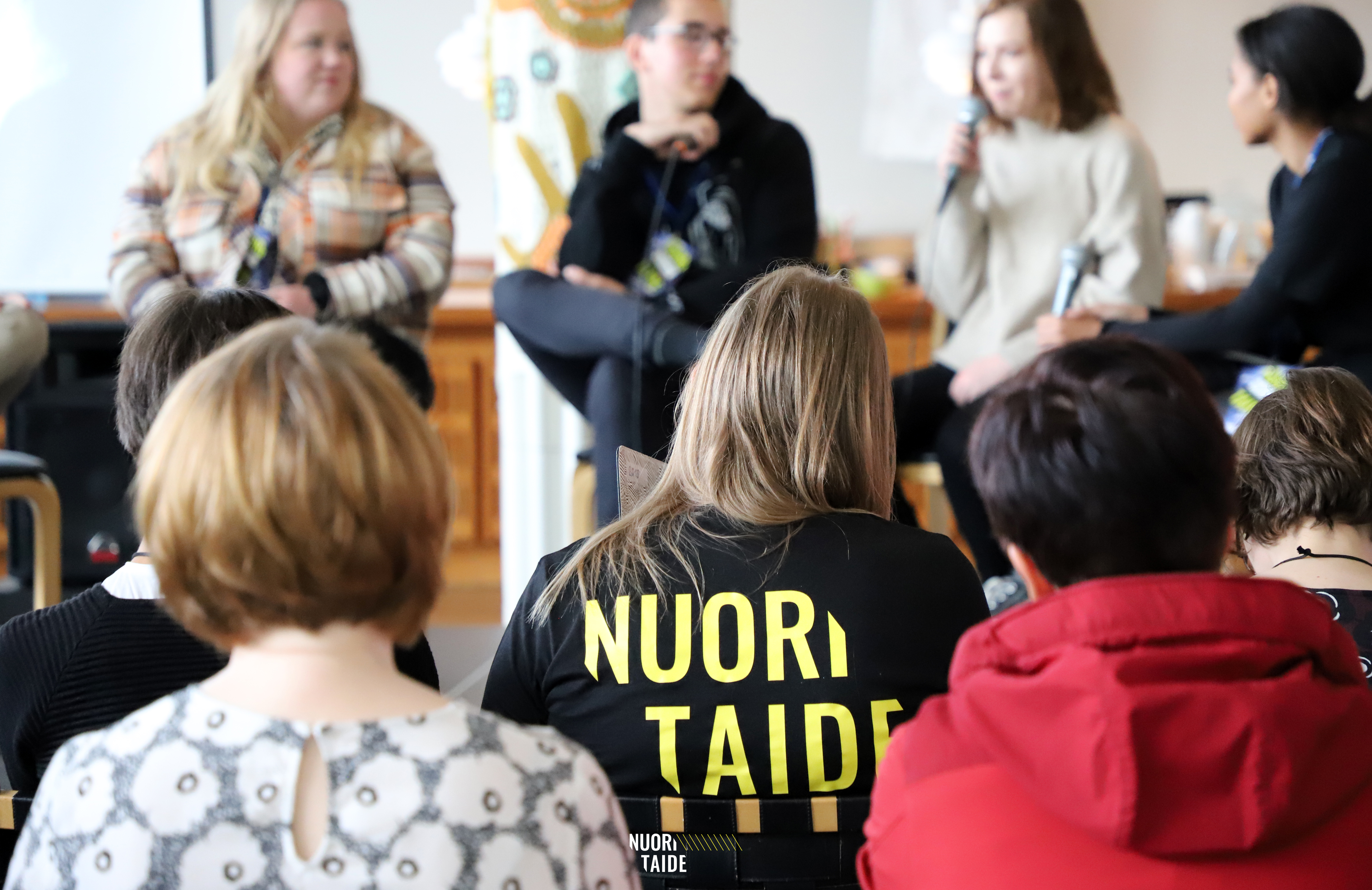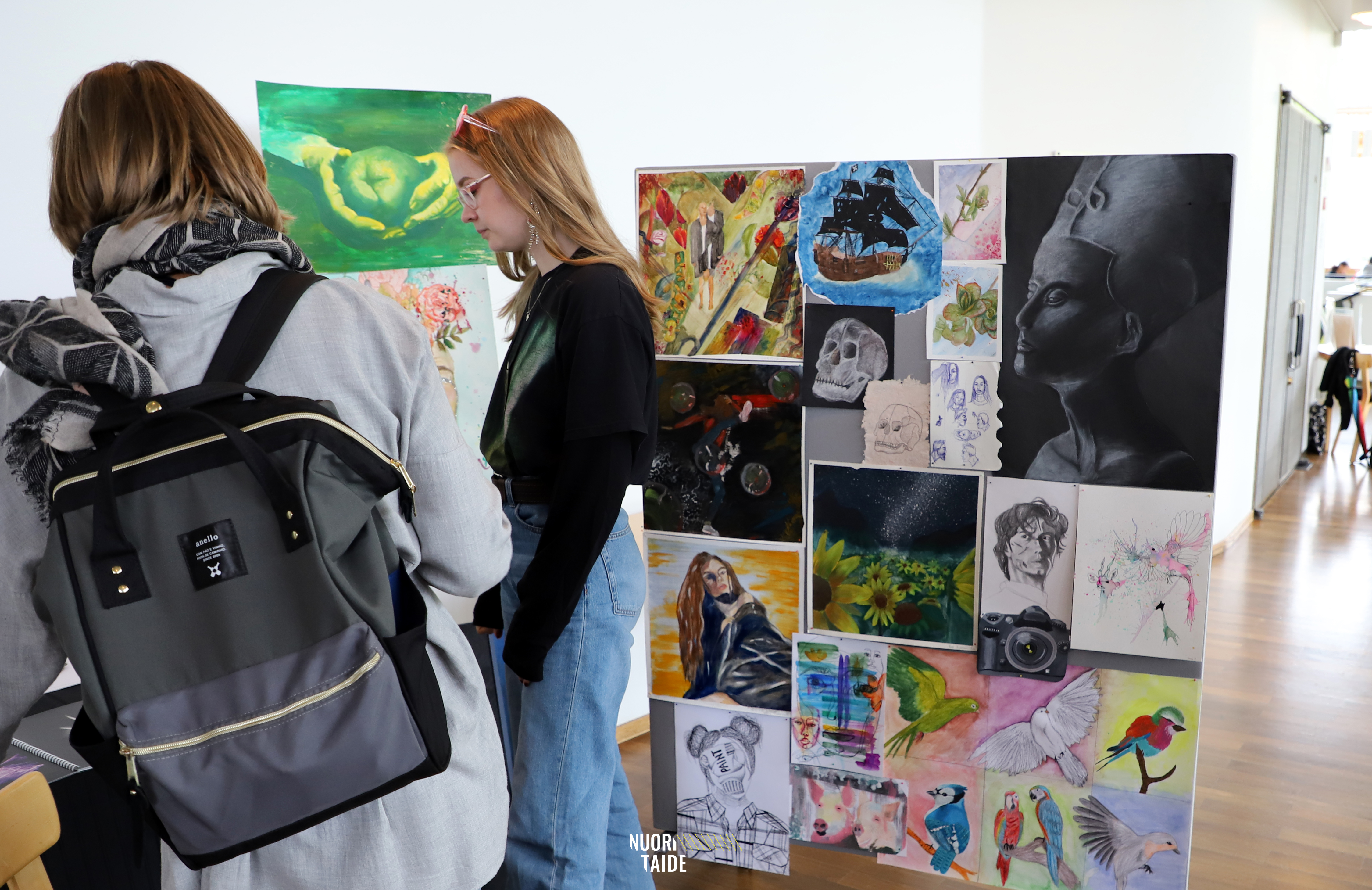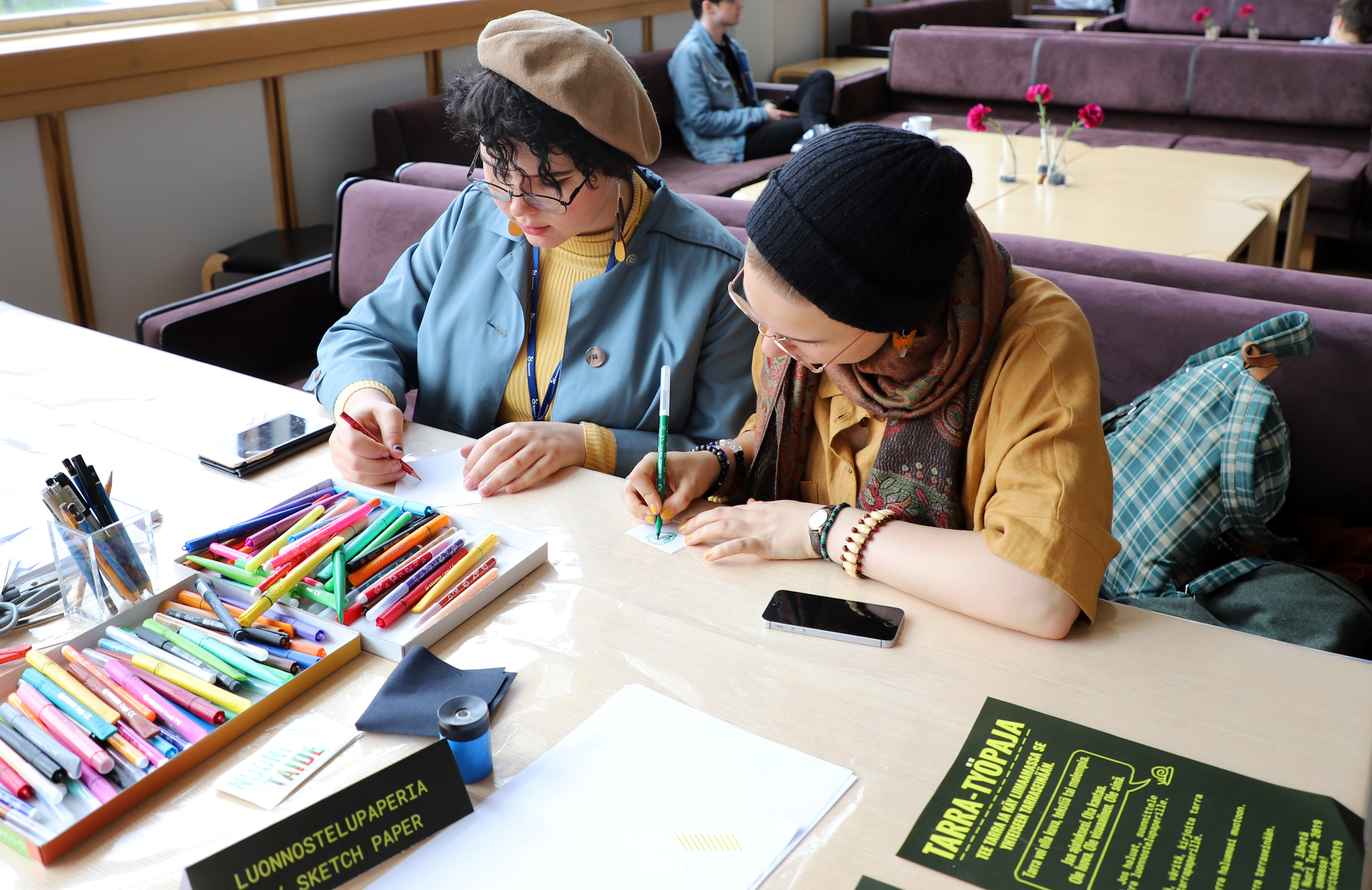 Young Art Workshops And Trainings
In co-operation with local actors, Nuori Taide organizes workshops for young people and for adults working with them. These workshops offer the participants encouragement and fresh ideas and may well be the start of a new hobby.
The workshops for adults working with young people focus on instructing, supporting, counselling and training the local and regional actors to encourage young people to showcase their work and to participate in the Nuori Taide Event and the Generation Exhibitions.
The workshops are carried out both with organisations and young people.
Young Art – Find It and Own It!
The form and content of Nuori Taide is never brought to completion, it is never exhausted. It is a forum that we hope will be filled up with ideas and actions of young people, youth work and visual art professionals.
What do You think Nuori Taide could be? Share your thoughts!
We are looking for partners to envision, plan, experiment and realise things that could be done in the field of visual art and expression of young people.
Do You or Your group have dreams, thoughts or ideas You would like to realise? An artwork? An event? Would You like to receive support from a pro to make them reality?
Local or regional actors working with young people, would You like to get fresh ideas or new partners to realise Your ideas?
Artists or experts of visual culture, would You like to work with young people interested in arts?
Feel free to contact us and let's discuss your ideas!
The form and content of Nuori Taide are planned and realised in co-operation with local actors. Ideas for workshops, seminars and trainings or some other kinds of activities are welcome!
Nuori Taide's mission is to enable young people to realise their ideas and hopes and to support the work and expertise of the people working with them.
Nuori Taide wishes to bring together young and grown-up hobbyists and professionals as well as the experts of the cultural field and youth work.
Got interested? Any questions? Ideas? Suggestions? Proposals?

Contact us!
nuoritaide@artcentre.fi
+358 (0)50 308 3625
Executive Producer
Päivi Venäläinen
paivi.venalainen(a)artcentre.fi
Community Manager
Aurora Salomaa
aurora.salomaa(a)artcentre.fi
Postal Address
Nuori Taide
Lasten ja nuorten taidekeskuksen säätiö
Kankurinkatu 4–6, 05800 Hyvinkää, Finland
FOLLOW US!